Stephen Connolly
Folkestone Obscura
4 October – 27 November 2004

Stephen Connolly has made a film surveying 100 years of visual entertainment on Folkestone's seafront. It begins by revealing the hidden story behind one of Folkestone's first seaside attractions – a camera obscura sited on the beach between 1886 and 1900 – and follows the century through moving image; capturing the history and quieter moments of leisure by the sea. The film uses material from Folkestone Library & Museum, images from a variety of other collections, new footage and interviews with Folkestonians.

Thanks to Robert Crook, Martin Easdown, Larry Liddiard, Ken & June Paine, Simon, Scarlett & Jacob Rickard, Eaamon Rooney, Dan Copley, Bruce Crook, Dr Kay Dickinson, Jakki Elvy, Janice McLaren, Ben Wright, Rob Illingworth and South East Film and Video Archive.

Talks and Events
Visions through a Lens; from Magic Lanterns to Film
20 October 2004, 18.30
Sassoon Gallery, Folkestone Library & Museum
A look at how photography and cinema has shaped our views of the past with Bruce Crook and his Magic Lantern, Frank Gray Director of the South East Film and Video Archive and film maker Stephen Connolly.
Free. Booking advised on 01303 256710.
Contemporary Camera Obscura
30 October 2004, 12.00 – 16.30
Bottom of the Cliff Lift (if it rains – Folkestone Library).
View Folkestone through Stephen Connolly's camera obscura.
Free.

Location Details
Address
Folkestone Library & Museum
2 Grace Hill
Folkestone
Kent CT20 1HD
Tel: 01303 256710
Link to map (which opens in a new window)

Wheelchair access. The library has an audio loop.
Opening Times
Monday and Tuesday
9.30 –18.00
Wednesday
9.30 –17.00
Thursday
9.30 –18.00
Friday & Saturday
9.30 – 19.00
Sunday
10.00 –16.00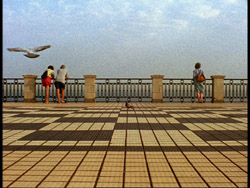 Still from Obscura © Steven Connolly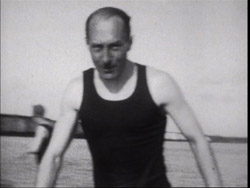 Still from Obscura © Steven Connolly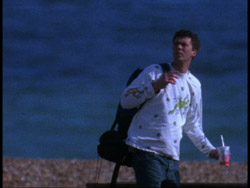 Still from Obscura © Steven Connolly