Bob and Roberta Smith
Day Out
4 October – 27 November 2004

Inspired by the outrageous satirical posters and bizarre photographs of seaside entertainers Bob and Roberta Smith launches an absurd political campaign for more art. Before Screaming Lord Sutch there was Lord Charlie Banks! whose exploits are revealed by documents in the Folkestone Library Heritage Room. Charlie Banks was an employee of the Pleasure Gardens Theatre in the 1900's, and with his friends, paraded the town in fancy dress & animal costumes for the benefit of local charities. In his alter ego as political activist Banks produced spoof election posters. Taking a lead from Lord Banks, Bob and Roberta Smith will invite the electors of Folkestone to vote for him to build five new museums devoted to Art and he will declare Folkestone as City of Youth.

Bring a picnic and for Bob and Roberta Smith's Grand Day Out on the 30 October 2004. Join in a series of competitions and experiments including Hills are the New Holes digging competition and Vegetable Portrait Bust competition. Then come along to the Metropole and hear Bob Smith play and sing My Husband Thinks He is a Musician, an ode to Charlie Banks and other songs inspired by the Local Studies Collection of Folkestone Library & Museum (also available on CD). There will be a poster to celebrate all the lost lateral thinking of the Victorian era.




Talks and Events

Grand Day Out with Bob and Roberta Smith
30 October 2004, 14.00 – 18.00
(14.00 beach in front of the Metropole, 17.00 Music Room, Metropole.)

Metropole
, The Leas, Folkestone
Bring a picnic and join in a humorous and quirky jaunt with a series of competitions and experiments.
Free.




Location Details
Address
Folkestone Library & Museum
2 Grace Hill
Folkestone
Kent CT20 1HD
Tel: 01303 256710
Link to map (which opens in a new window)

Wheelchair access. The library has an audio loop.
Opening Times
Monday and Tuesday
9.30 –18.00
Wednesday
9.30 –17.00
Thursday
9.30 –18.00
Friday & Saturday
9.30 – 19.00
Sunday
10.00 –16.00
Location details for Grand Day Out
Metropole
The Leas
Folkestone
Kent CT20 2LS
Tel: 01303 244706
Link to map (which opens in a new window)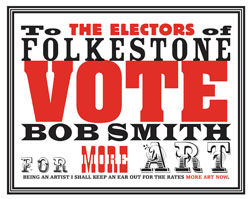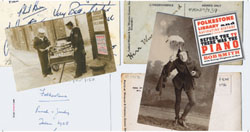 Title © Bob and Roberta Smith, 2004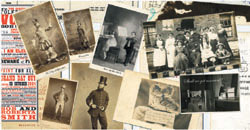 Title © Bob and Roberta Smith, 2004